Parking Notice
The township of North Dundas has updated the parking rules in South Mountain and we have been told they will be ticketing and towing cars parked in no parking zones during the fair. The roads in RED are NO PARKING zones on both sides of the road.  The field at the top (North end) of the map is the free parking area. There will be wagons in the field to bring people to and from the gate as usual.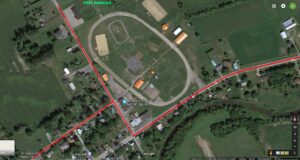 President's Message
Hello fans of the South Mountain fair, 2018 marks the 126th edition. I hope everyone is looking forward to this years fair. This will be my second year as president and my 12th year on the fair board. New for this year will be the Eastern Ontario Garlic Festival on Sunday August 19. We eagerly look forward to their displays of locally produced items. Carter shows will be back as our midway for a second year and they have promised us a great variety of rides.The demo derby will be back on Friday night and the truck and tractor pulls on Thursday and Sunday. The children's tent will have lots of displays and activities. I look forward to seeing everyone at the fair this year.
A Fair to remember
August 16-19 2018
Alan Burns
Please welcome our new Hall Manager

The Mountain Township Agricultural Association is pleased to announce that Joanne Havekes has been hired as our new Hall Manager. We want to extend a huge thank you to the outgoing hall manager Rhonda Holmes for 10 years of tireless work. During Rhonda's time the hall has undergone some huge changes and is now the best facility in the area for many kinds of events.
Alan Burns
President
South Mountain Fair