MYERS AUTOMOTIVE DEMOLITION DERBY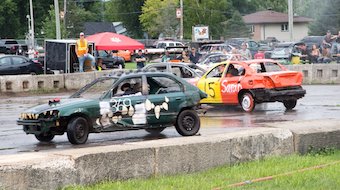 Date: Friday, August 16
Cars on Site: 6:00pm
MANDATORY Drivers Meeting: 6:45pm
Time:  7:00pm ‑  10:00pm
Chairperson: Taylor Ace, 613‑784‑9390
DERBY CAR GIVE-AWAY
Date: July 6
Time: 8:00am
Deposit: $250 cash (will be returned after participation in MTAS derby and relinquishment of derby car)
30 cars … first come, first served!!
$6000 in Total Prize Money to Give Away!!
GENERAL GUIDELINES
Everybody must pay gate admission to gain access to grounds
No persons under the age of 16 are allowed in the pit area at any time
All drivers must have a valid G2 class over above drivers license as of the date of the derby.
NO EXCEPTIONS
Only driver plus ONE other person allowed in pit area
NO ALCOHOL PERMITTED ON GROUNDS. OPP enforced
PRIZE MONEY
Overall class winner: $600.00 per class
Overall class runner up: $300.00 per class
Heat winners (2 per heat): $100.00 each
***MTAS will not be held responsible for any vehicles, parts, personal property, or injury before, during, or after the event. In the interest of safety, anyone entering is subject to and must obey the following rules and regulations****
RULES AND REGULATIONS
Each driver must fill out an entry form
Each driver must have at least a G2 license and present the

valid

license upon arrival
Each driver must supply their own vehicle and arrive with it derby ready
MTAS reserves the right to approve or reject any or all entries
No vehicles are permitted in the competition area before the heat in which they are to participate
All drivers must attend a MANDATORY drivers meeting before the commencement of the event
Failure to comply with the rules and regulations is grounds for disqualification

without refund
TYPE OF VEHICLE
Any stock, hardtop automobile or station wagon is allowed
Any stock, factory made rear ends are permitted, including posi-traction and limited slip differentials
No trucks, jeeps, convertibles, hearses, or limousines are allowed.
PREPARATION OF VEHICLE
Welded solid or chained-down engine mounts are recommended
Roll over bars are allowed but not necessary
All doors must be fastened shut by minimum four (4) strands of wire, straps, or welded
No spring jacks, blocked shocks, or reversed shackles are permitted
Suspension must be free of blocks. Helper springs or altered suspensions are not permitted and torsion bars must be at manufacturer's specifications
The following must be removed before arriving at the fairgrounds:
All glass (including windshield, side windows, head and taillights; **rolling down window is not permitted**)
All airbags
Chrome molding strips and bottom portion of rear seat (mash down or cut off)
Special bumpers, reinforcements, fabrications, trailer hitches, etc.
Only one automotive-type battery is allowed. It may be relocated to any location in the car, but MUST be securely fastened and covered
Cutting fenders for wheel clearance only is permissible- ends of bumpers may be cut off
Hood must be fastened down in four (4) places; trunk or tailgate must be fastened down in four (4) places.
**Official's decision on overuse of wire**
Stock gas tanks must be moved from stock position into trunk or rear seat area. A small, portable tank is recommended in place of the original.

All tanks must be securely fastened and covered
Maximum of four (4) gallons of fuel is permitted per heat
ABSOLUTELY NO PLASTIC FUEL CANS ARE PERMITTED

Vehicle must be swept clean; absolutely no junk tires, wheels, metal parts, glass, etc. is allowed in the vehicle
It is recommended that the driver's door be reinforced inside with steel bar, angle iron or pipe
Length not to extend more than eight (8) inches on either end of the driver's door
It is recommended that a minimum sixteen (16) inch opening be cut in the centre of the hood cover over the carburetor in case of fire
No double tires permitted- automotive only
No studs or screws in rims to hold tires
Strong wire or nylon mesh screen is recommended on driver's window and windshield area
Scatter shields are also recommended
DRIVER SAFETY APPAREL
**Drivers will not be permitted to compete without all safety apparel**
**Z-90 safety belt, approved helmet and approved goggles for eye protection are mandatory.
One piece overalls or garment with long sleeves and pant legs.
NO SHORTS ARE PERMITTED**
RUNNING
Drivers may maneuver forward and backward, but deliberate hitting on driver's door can be cause for disqualification
Vehicles must have dependable and sufficient brakes at all times
Competition area boundaries must be observed at all times
Vehicles who fail to stay in the confines of the competition area will be disqualified
ABSOLUTELY NO ALCOHOL OR DRUGS WILL BE PERMITTED ON GROUNDS
Drivers or pit crew who are in possession of or under the influence of drugs or alcohol will be disqualified
A vehicle will be disqualified if the driver's door comes open during a heat
A 60 second time limit is enforced by officials for restarts and making competitive contact with another vehicle
Simple hits do not constitute combat and could be considered sandbagging
Hits must be aggressive
All heat winners will be allowed to work on their cars for 20 minutes before the final heat
The air horn will signal the start and stop of heats
If at any time during the heat the air horn sounds, all vehicles must stop
Failure to do so will result in immediate disqualification
If at any point a vehicle becomes a safety hazard, the derby coordinator and/or the fire department reserve the right to eject the driver and vehicle from the competition
ALL VEHICLES MUST BE REMOVED FROM THE MTAS GROUNDS IMMEDIATELY FOLLOWING THE EVENT. VEHICLES LEFT ON GROUNDS WILL BECOME PROPERTY OF MTAS AND WILL BE REMOVED. TITLES MUST BE TURNED IN ON ALL CARS LEFT FOR JUNK